David J. DiMaggio
Attorney at Law / Associate at Beyer & Lippert
David represents clients in:
Family Law (adoption, divorce, custody)
Criminal Law (traffic citations, expunctions, and misdemeanor and felony crimes)
DSS Court (abuse, neglect, dependency)
Juvenile Justice cases
Civil Disputes (evictions, small claims, etc.)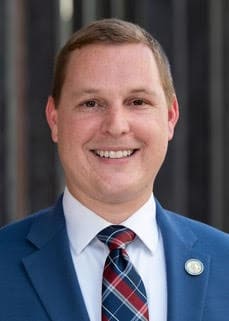 David Joseph DiMaggio is the newest attorney at Beyer & Lippert. David is a Charlotte native who graduated Elon University School of Law summa cum laude with a 4.0 GPA, and numerous student awards.
Prior to law school, David attended Appalachian State University where he received a bachelor's degree in criminal justice. After graduating, David began his legal career as a superior court legal assistant with the Burke, Caldwell, and Catawba County District Attorney's Office. While contemporaneously working towards his master's degree in criminology from Arizona State University, David assisted prosecutors with every classification of felony offense within the 36th Prosecutorial District.
David participated on Elon Law's Moot Court Board, finishing with a Top 10 Brief in the 2021 Emory Moot Court Competition. In the Summer of 2021, he completed an internship with Chief Justice Paul Newby of the North Carolina Supreme Court. David added federal experience by completing his residency program in the Spring of 2022 with Judge Frank D. Whitney, United States District Court Judge for the Western District of North Carolina, before spending the Summer of 2022 with the Mecklenburg County District Attorney's Office's Violent Crimes Team.
During law school, David was employed as a student clerk to the North Carolina Pattern Jury Instruction Criminal Subcommittee, where he assisted superior court judges in the drafting and revising of Criminal Pattern Jury Instructions based on developments in North Carolina statutory and case law. He also participated in the Guardian Ad Litem clinic, working on abuse, neglect, and dependency appeals through the law school. Upon graduation, David was awarded the Clinical Legal Education Association's Outstanding Student Award and the International Academy of Trial Lawyers Student Advocacy Award.
Beyer & Lippert serves Morganton, NC and the Surrounding Areas
Professional Organizations
Licensed Attorney, North Carolina State Bar
Member, 25th Judicial District Bar
Member, Burke County Bar
American Bar Association, former member